Efforts to Prevent the Spread of COVID-19
ANA Crowne Plaza Osaka is committed to ensuring the safety and security of our guests and employees.
In order to ensure the safety of our guests at banquets, conferences, and other gatherings, we have implemented the following countermeasures against COVID19.
Please note that these measures may be subject to change at any time due to national or local government policy.
Please contact us for meetings and events.
---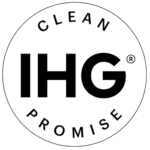 IHG Clean Promise
InterContinental Hotels Group (IHG®) has launched the global IHG Clean Promise. We have partnered with leading hygiene experts Cleveland Clinic, Ecolab, and Diversey. IHG is committed to providing a pleasant experience for our guests by supporting their safety and wellness during their stay. 
For more information about IHG Clean Promise, please click here>>
---
To Organizers

We are fully prepared to ensure that organizers can hold events with peace of mind.
Efforts throughout the building
All employees wear masks or mask shields when working.
All employees are required to take good care of their physical condition and regularly wash their hands, gargle, and disinfect their fingers with alcohol.
All employees and contractors are required to take their temperatures at the entrance before entering the building.
Employees who have a fever or are not feeling well are asked to stay home.
In addition to cleaning the hotel during normal business hours, employees regularly disinfect items and areas that frequently come into contact with many guests with alcohol.
Temperature checks are conducted on all guests at check-in and when entering the restaurant and bar.
Additional alcohol disinfection stations have been installed in common areas such as the lobby, front desk, restaurants, and restrooms.
We limit the number of people using the restaurant, swimming pool, sauna, etc. and the time in order to avoid crowding.
Efforts at Banquet Halls
When using banquet halls for meals, meetings, etc., we propose layouts that maximize the use of space by ensuring as much space as possible between guests.
We disinfect the door knobs at the entrances and exits of the banquet halls before the start, during breaks, and after the banquet. We also disinfect audio microphones and other equipment before and after use.
Hand sanitizer has been added on the banquet floor and at the entrances and exits of the banquet halls, and we ask our guests to sanitize their hands and wear masks.
Temperature monitors have been installed at the entrance and exit of the banquet halls, and guests with a fever of 37.5°C or higher or those who are not feeling well are not allowed to enter the banquet halls.
Splash-proof partitions (transparent) will be placed at the reception desk and podium. (Limited number available).
Transparent splash-proof partitions are available for desks and round tables upon request. (Limited number available / can be arranged separately for a fee)
Information boards will be posted at the entrances and exits of the main and middle banquet halls to prevent congestion.
When guests enter and exit the banquet halls, staff will guide them to avoid congestion at the entrances and exits of the banquet halls, and will place signs to ensure that guests keep their distance from each other.
For the health and safety of our guests, our employees will wear masks or face guards and gloves when necessary.
Before the start of the banquet, during breaks, and after the banquet, alcohol will be used to disinfect doorknobs at the entrances and exits of the venue and other places that guests frequently come into contact with.
We also disinfect the fixtures in the banquet hall before and after the banquet. In addition, doors are opened to allow outside air to enter the room for ventilation.
Please wear gloves when using tongs for serving buffet dishes. Please wear a mask when mingling.
Please keep a clear space between guests. Tongs on the serving table will be changed every 30 minutes.
Small snacks served during breaks will be individually wrapped.
Information boards with a QR code for registration in the "Osaka Corona Tracking System" are placed on the banquet floor and other areas.
When using the banquet rooms, please use your smart phone to read the QR code posted at various locations and register your e-mail address.
Information based on the "IHG Clean Promise," a coronavirus infection countermeasure by IHG, the management company of ANA Crowne Plaza Osaka, is posted throughout the hotel.
To all visitors

Before visiting the Museum, we ask that you refrain from leaving the premises if you have any symptoms of illness, such as a fever of 37.5 degrees Celsius or higher, coughing, difficulty breathing, or fatigue.
During your stay at the hotel, please wear a mask in public spaces and wash your hands and disinfect your fingers.
We ask all guests staying at the hotel or using the banquet rooms to take their temperature; we reserve the right to refuse accommodation or use of the banquet rooms to any guest with a fever of 37.5 degrees Celsius or higher.
We ask all guests to identify themselves at check-in and to provide us with their contact information.
Please notify the front desk immediately if you develop a fever, cough, or any other illness during your stay at the hotel.